Register now for the Science is Wonderful! Live 2021 online platform
Register for Science is Wonderful Live! online talks with schools before 20 October 2021 to engage with school pupils and their teachers about your work in MSCA.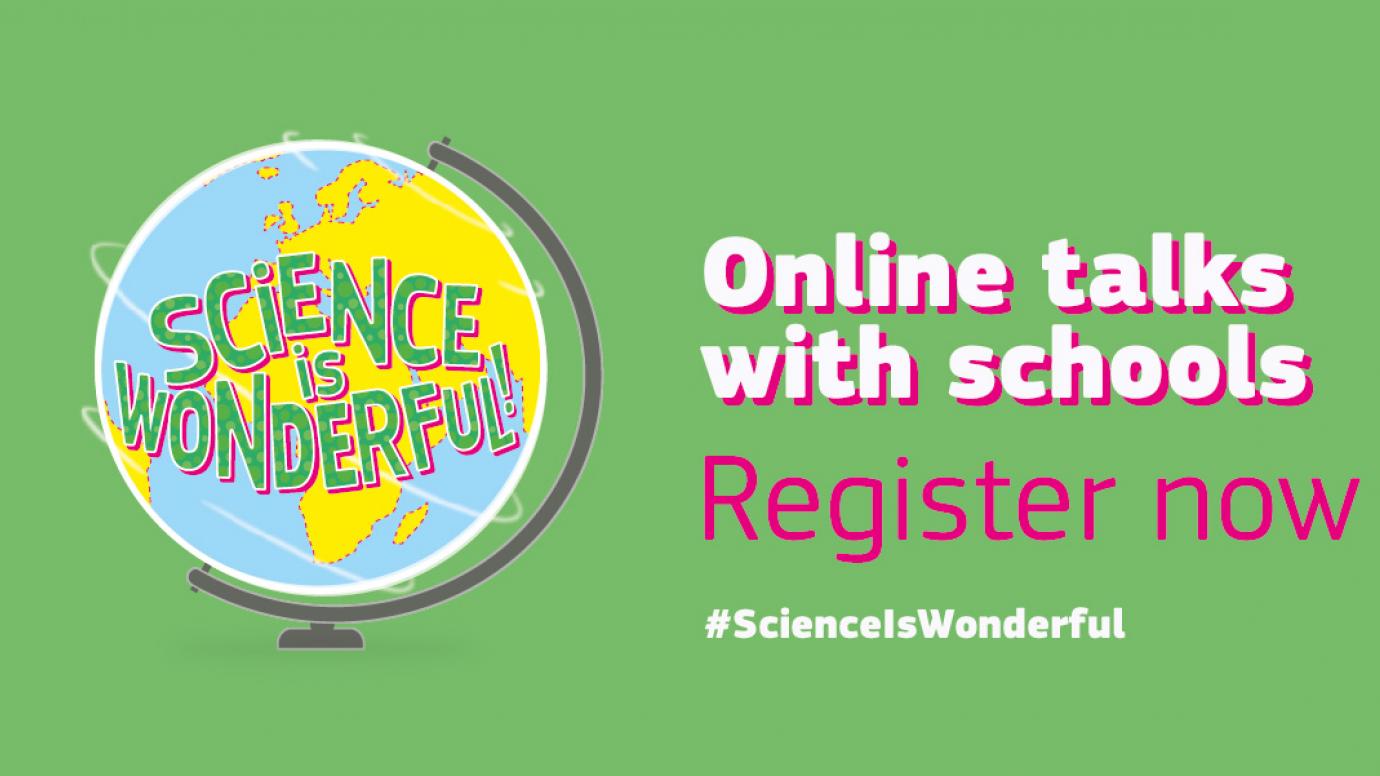 Every year since 2015, researchers engage with young audiences to demonstrate the impact of their work on people's daily lives through Science is Wonderful!
MSCA researchers bring the world of science, research and innovation to teachers and pupils in primary and secondary school.
At any time between 22 and 26 November 2021, Science is Wonderful! Live offers MSCA researchers, coordinators and alumni the opportunity to meet up with pupils and their teachers during online talks.
Register and interact
The aim of Science is Wonderful! Live is to offer a broad range of opportunities for kids all over Europe to interact with researchers in their mother tongues. To achieve this, we encourage you to register by 20 October 2021 and to spread the word.
Six good reasons to register for Science is Wonderful! Live
Science is Wonderful! Live is a dedicated videoconferencing platform, allowing you to create interactive exchanges with teachers and pupils.
You are free to decide your availability. You may be present for a few hours only, for a day or two, or for the whole week. You don't need to know your precise availabilities at this stage because you can fill in your virtual calendar later on the platform.
Your dedicated researcher profile on the platform will share information such as your language, your field of research, and the age of the pupils you'd like to talk to. Teachers from all over the EU will research profiles and send requests in advance of the event's week.
We need native speakers in all EU languages among our MSCA researchers and alumni.
No specific compulsory preparation is required on your side, except to liaise with the teachers before the talk with the pupils. However, we encourage you to think beforehand of a nice hands-on experiment, a do-it-yourself activity or a quiz/game to show your work in an entertaining way.
You will be invited to conduct a technical check of your IT equipment before the online talks and you will receive specific guidelines on the use of the Science is Wonderful! Live platform.
Timeline for Online Talks with schools
Now to 20 October 2021
Registration open for MSCA researchers, coordinators and alumni.
21 October – 9 November
Update of researchers' profiles on the Science is Wonderful Live platform (notably: individual calendar of availability for the week 22-26 November).
Sending of guidelines to researchers.
10 November – 21 November
'Match-making' between researchers and schools, using the researchers' and teachers' profiles and virtual calendars.
Communication between researchers and teachers to define the structure and content of their session.
Technical checks for researchers (optional).
22 November – 26 November 
Science is Wonderful! Live event's week and Online Talks with schools.
Follow the link to find out more and register before 20 October 2021 through the dedicated survey!