Build the Circular Economy
Languages:

All EU languages
Ages:

12-15
15-18
School subject:

Citizenship
Natural sciences
Format:

Game
Research field:

Information Science and Engineering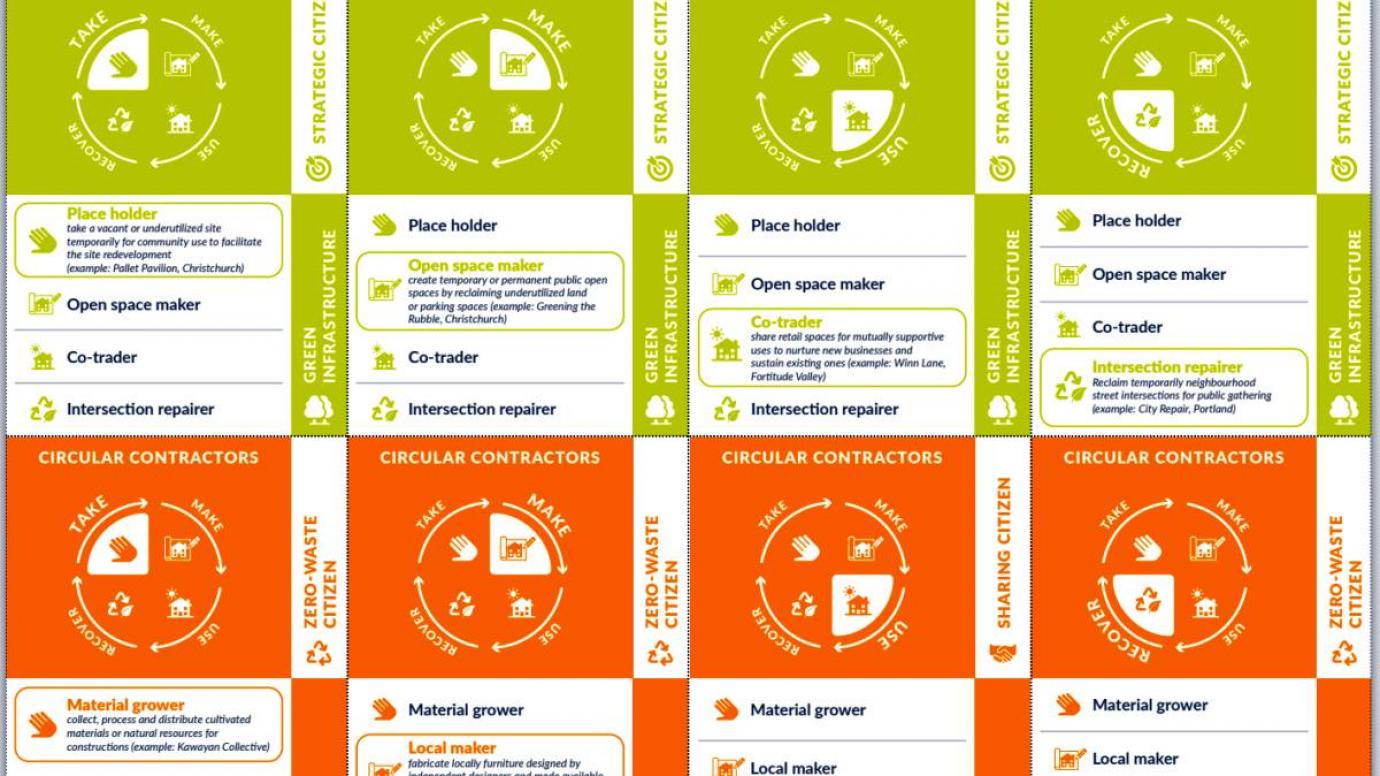 About Circular Families
The Circular Families card game is a fun way to teach people how they can help the world by transitioning to a Circular Economy.
The game introduces people to certain production and consumption practises necessary for a circular economy.
By playing the game, players will discover the rules of engagement for the transition to a circular economy. The Circular Families game educates people about changes in everyday production and consumption practises.
By changing behaviours, people take an active role in reducing the ecological impact of cities on the environment. This also promotes benefits for society and the economy.
Sustainable, affordable, environmental benefits are the basis of the circular economy.
About the Circular Families Game
You will need
Playing Cards
Letter cards
Citizen Profile cards
Instructions
How to play
Game contents
The game is for 2-6 players. The game is composed of a specially printed deck of 52 cards. The card deck is arranged in 13 families. Also included in the game contents are
Two joker cards
10 letter cards
7 citizen-type ID cards
Instructions for card making
Playing instructions
Objective
The aim of the game is to collect four members of the same family to build a circular family.
Learn how to play the Circular Families game
Gameplay
There are 13 circular families which are divided into five urban sectors:
Building
Product
Food
Green infrastructure
Mobility
Each family is composed of four members, and each member has to use a social innovation strategy to implement one of the circular actions.
Social innovation strategies are deployed in an attempt to build a circular loop in the urban sector. Social innovation strategies include
Take
Make
Use
Recover
Each playing card contains the
name of the circular family
family member highlighted with the implemented social innovation strategy
action applied by the family member to implement a circular loop
other family members
citizen-type to which the member belongs
urban sector of implementation
Getting started
Download and print out the DIY cards & play brochure of the game.
Print and assemble the cards (see instructions card).
There are 2 variations of the game to play (see rules cards)
Circular Happy Families
Circular Loopy Families
After playing, select your preferred strategy on the play cards and identify the relevant citizen-type on the related card.
Consult the included Citizen-ID Flyer to discover features of your citizen-type on the related citizen-ID card.
Information for teachers
Activity duration: 30 minutes
Recommended group size: 2 to 6 players
Recommended location: Anywhere
Preparation by teacher needed: Yes
Additional materials needed: No, the game and Citizen ID flyer can be printed and cut to play the game.
CircuBED - Applying the Circular Economy to the Design of Social Housing
Researcher's name: Marianna Marchesi
Visit the project website